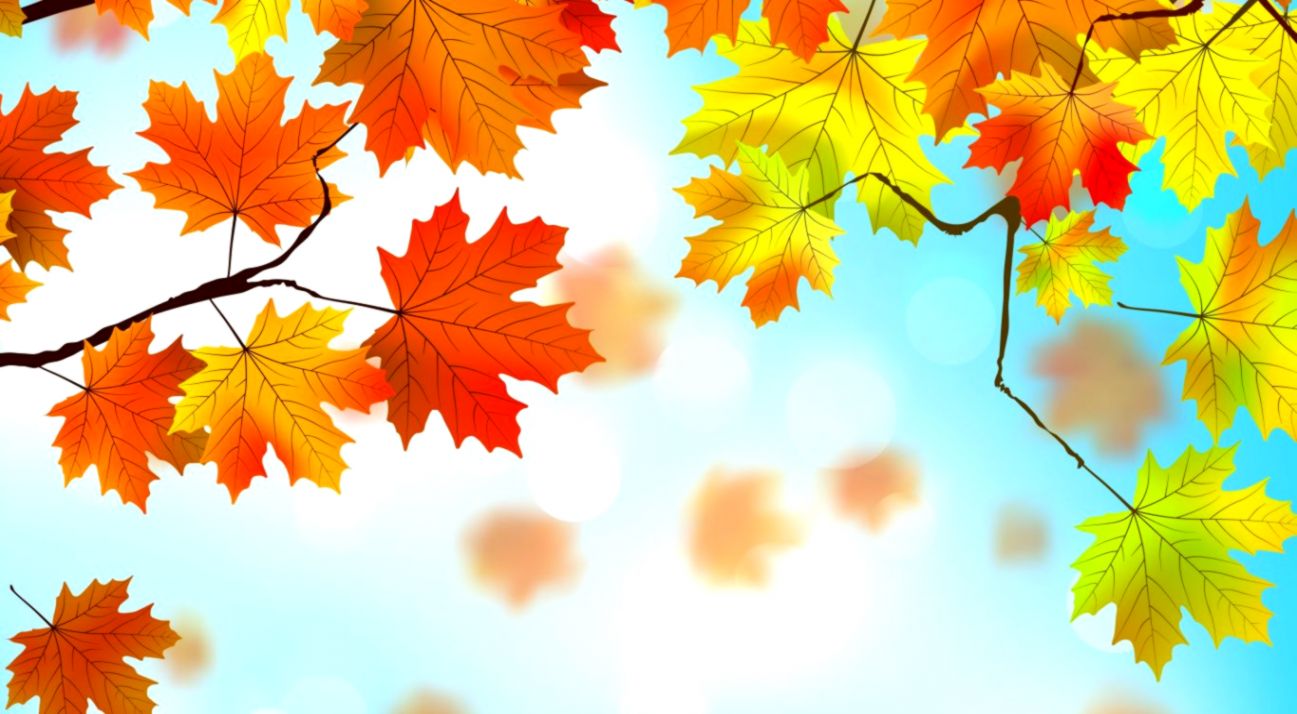 Fall/Winter 2020-21
Return to Training
The Canmore Skating Club is feeling very privileged and excited to be getting back on the ice at the Canmore Recreation Centre. Skate Canada and the Town of Canmore have provided operational guidelines and resources to help the Club implement Alberta Health Services' recommendations for a safe Return to Sport, Physical Activity and Recreation.
Anyone wishing to skate with us during Stage 2 of Alberta's COVID-19 Re-launch Strategy must attend (virtually) or view the recording of the Parent / Adult Skater Information Meeting - held September 3 for the STAR/Competitive program skaters.
The CanSkate/Pre-STAR/STAR 1-3 Parent Information Meeting was held Tuesday, October 6 at 7:00PM (link to recording of meeting here).
Some notable changes required in the skating with COVID-19 in the world:
Arrive at facility no more than 15 minutes prior to scheduled session.
Warm up outside if possible, maintaining physical distance of 2m.
Dressing rooms are now available with

maximum number of occupants

clearly posted on the door. Maintain physical distancing within the dressing room.
Enter (and exit) the Canmore Recreation Centre through established routes and follow signs.
Masks, in general, to be worn inside the building. (Coaches will wear while teaching. Skaters do not need to wear masks while on the ice or during off ice class activities.)
One water bottle filling station available. Try to bring your own water and water bottle and do NOT share it with anyone.
NO spectators. Some volunteers will be required.
Wash your hands with soap and water or use hand sanitizer when you enter or exit the building and on flood breaks.
Respect social distancing guidelines at all times.
Register with the coach or volunteer for Contact Tracing Attendance.
Arrive no earlier than 5 minutes to the side of the rink and stay in designated area.
Leave the facility immediately following training.
No Drop-ins. Pre-register and pay for single sessions in advance by emailing canmoreskatingclub@gmail.com by noon of the day you wish to attend. Some sessions are full and we will be unable to accommodate drop-in requests.
When you get home - thoroughly wash all training clothes and accessories including phones, water bottles, gloves, hard guards, blade rag, etc.
Your health
Stay at home and DO NOT attend session if you:
The COVID-19 Health Screening Questionnnaire (wording updated Sept 17) must be done DAILY. You will NOT be allowed to participate in the day's training if you answer "yes" to any of the questions on the questionnaire. Please stay at home if you are unwell and complete the Alberta Health Services COVID-19 Self Assessment Tool.
It is also extremely important to email the Club (canmoreskatingclub@gmail.com) if you or someone you have been in close contact with tests positive for COVID-19 or is suspected of being COVID-19 positive.
Things to read/watch re COVID-19 protocols
COVID-19 Health Screening Questionnnaire/Checklists - daily screening (required)
SKATE-CANADA-ASSUMPTION-OF-RISK-AND-WAIVER 2020-21 (required, print, complete and bring to first session)
STAR/Competitive Parent Information Meeting or CanSkate/Pre-STAR/STAR 1-3 Parent Information Meeting (attendance at or viewing of recorded version is required)
SKATER-CHECKLIST - Sept 5 (very handy reference);

updated September 5

Skate Canada: Alberta-NWT/Nunavut "Return to Play" protocols
Schedule
NEW THIS YEAR! We are proud to be collaborating with the Banff Skating Club to ensure the health and viability of both clubs. You will notice on the Basic Schedule that there are three, and possibly four, days where there is programming available in Banff. These include Tuesday AM, Wednesday after school, Thursday AM and Friday afternoon programs. Please consult the Banff Skating Club's website for more information.
Although we try to keep program times as consistent as possible, holidays, special events and Canmore Recreation Centre events may require adjustments throughout the year. Canmore Skating Club Basic Schedule Sept 29.pdf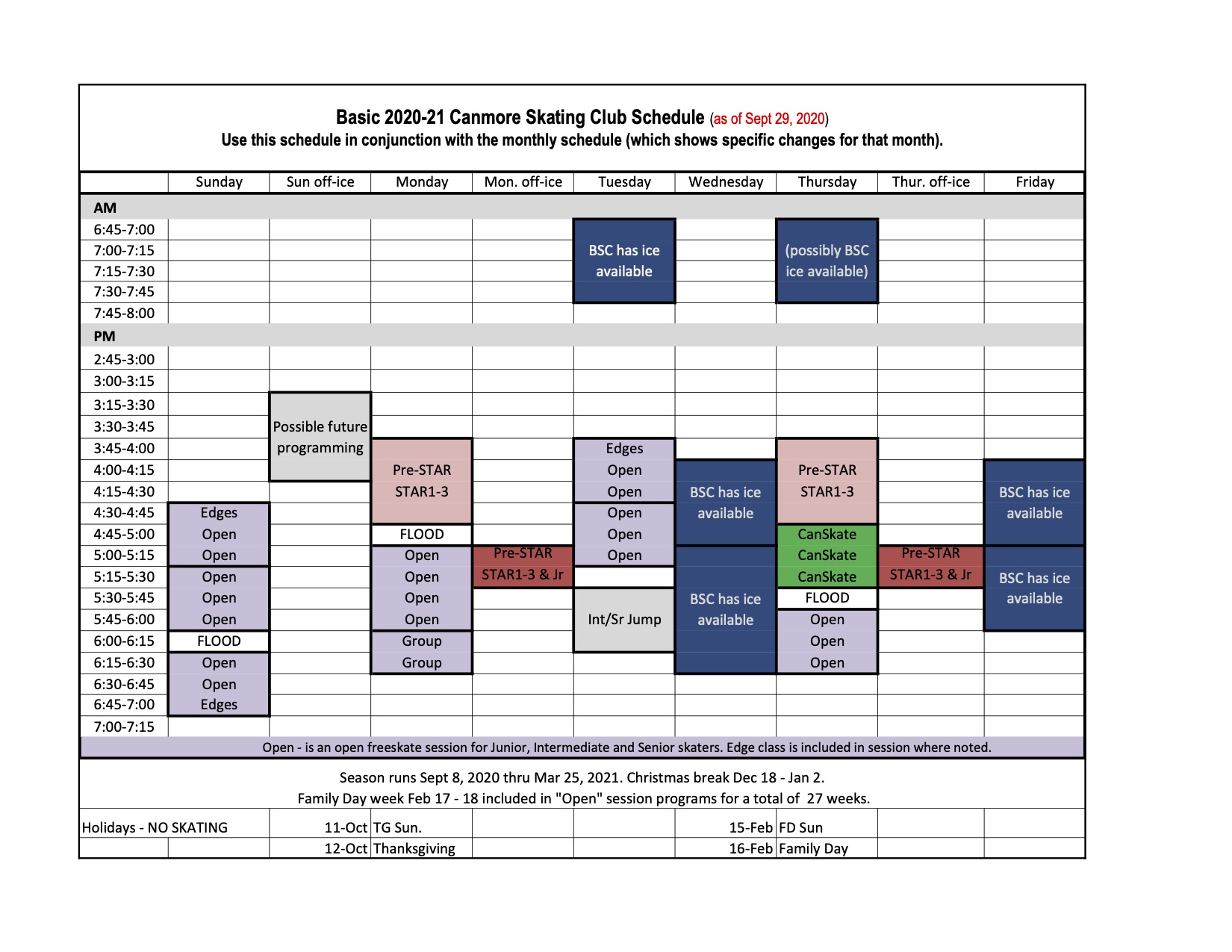 Printable Monthly schedules can be found on the Monthly Calendar page as well as a list of what is happening this week.
Specific dates, times and rates can be found on the REGISTRATION pages for Pre-STAR, STAR 1 to 3 Group and STAR / Competitive programs. Link to CanSkate registration page.
Two events that fall outside our regular programming are our Christmas Gala which is tentatively scheduled for December 17, 5:45pm-7:00pm (if public performances can be sanctioned). This is a chance to celebrate the season and showcase our skaters hard work. CANCELLED.
We will also be running our Holiday Skating Camp December 28, 29 and 30, 2020. Please watch this website under Camps for more details. CANCELLED.